Tustin Urgent Care Near Me
At Xpress Urgent Care, we pride ourselves in seeing all patients quickly while still providing excellent personalized care. It doesn't matter if you have stomach pains that have gone from dull to sharp or a recurring infection that you want us to look at. At our walk-in clinic in Tustin, we'll work with you to come up with a treatment plan that helps you. We currently have 1388+ reviews on Google, with an average score of 4.6 stars (out of 5).
Open Everyday 8AM – 8PM Including Holidays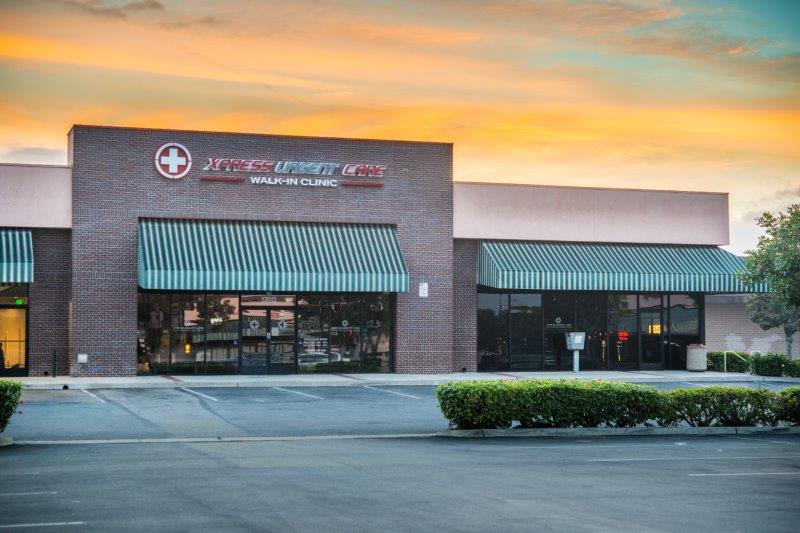 Urgent Care Near Me in Tustin, California
Our Tustin location is conveniently located in Oak Tree Plaza on Treehaven Lane. It sits directly next to Flame Broiler (Korean restaurant) and right across from Tustin Fitness. Our facility is modern and spacious but still cozy. We proudly service the residents of North Tustin, Orange, Santa Ana, Lake Forest, Mission Viejo, and Irvine.
Address:
17612 E. 17th Street Tustin, CA 92780
Hours:
8am to 8pm, Monday through Sunday (including holidays!)
Medical Clinic in Tustin
As a family-owned business, Xpress Urgent Care understands that families are happiest when everyone is at their healthiest. With that in mind, we treat and see patients of all ages. If you are suffering from intense asthma symptoms, you can come in today, and we will come up with a solution to promote speedy recovery. If your child has a persistent earache, we can provide compassionate pediatric care in a comfortable, kid-friendly environment.
In sum, we are ready to treat you as a person in need of medical attention, not as a number. If you're Sick Today, we will See You Today.
In an effort to uphold the Maintaining Internal Systems and Strengthening Integrated Outside Networks (MISSION) Act we work hard to ensure that the veterans in our community are adequately cared for. We do this by providing world-class VA care for most non-emergency injuries and illnesses at our Tustin medical clinic.
Your Language Needs Met At Urgent Care Near Me
At Xpress Urgent Care, we provide medical care in the following languages:
| | | | |
| --- | --- | --- | --- |
| Farsi | Korean | Philipino | Spanish |
| Thai | Vietnamese | | |
What We Treat At Our Urgent Care in Tustin
We treat a wide range of non-emergency illnesses and injuries at our Tustin urgent care center. Some of these include:
| | | | |
| --- | --- | --- | --- |
| Acne | Arthritis | Asthma | Cold & Flu |
| Cold Sores | Diabetes | Ear Infections | Eye Infections/Styes |
| Insect Stings and Bites | Minor Wounds | Minor Sunburn | Poison Ivy/Poison Oak |
| Sexual Transmitted Diseases | Sinus Infections | Sprains | Skin Lesions |
We also offer the following medical services:
Alcohol Testing
Biopsy
Ear Wax Removal
Pediatric Urgent Care
Pregnancy Diagnosis
Skin Lesion Removal
VA Urgent Care- Veterans Urgent Care
For a full list of conditions treated, read here.
Payment Options at Urgent Care in Tustin
Xpress Urgent Care believes that healthcare should be accessible to all at an affordable price. We accept most major insurance plans. If you do not have insurance, we can arrange reasonable self-pay options that do not break your budget.
Click here to see if your insurance is accepted.
Ready to Receive Top-Notch Medical Care Near Me in Tustin?
Schedule your urgent care visit in Tustin today and get medical care service today!
Have a question that you need answered now? You can call us at our office during business hours or connect via our 24/7 chat.