Costa Mesa Urgent Care & Walk-In Clinic
Located in Orange County, CA, our Costa Mesa Urgent Care and walk-in clinic is just off Highway 55 near the downtown area. As a commercial hub with major centers like the South Coast Plaza and Costa Mesa Plaza nearby, there is plenty to do in the area. Being just down the road from Newport Beach and the Upper Newport Bay State Marina, our Costa Mesa urgent care clinic serves multiple communities in the vicinity.
We aim to provide our communities with affordable and accessible medical care. We offer same-day visits that allow you to get medical care on your schedule. When you need healthcare for illnesses, minor injuries, or preventative care, choose the clinic that puts your best interests first.
With state-of-the-art technology, onsite x-rays, and onsite labs, there is no other walk-in clinic in Costa Mesa that is more convenient. We offer many of the services you may need all at one local facility. Our caring and professional staff is waiting to help you feel your absolute best. No appointments are needed, just walk-in anytime for care or check-in online ahead of time.
Visit Our Urgent Care Center in Costa Mesa
Address: 131 E. 17th St. Costa Mesa, CA 92627
Hours of operation: Monday-Sunday 8 am to 8 pm
Phone: (949) 548-8400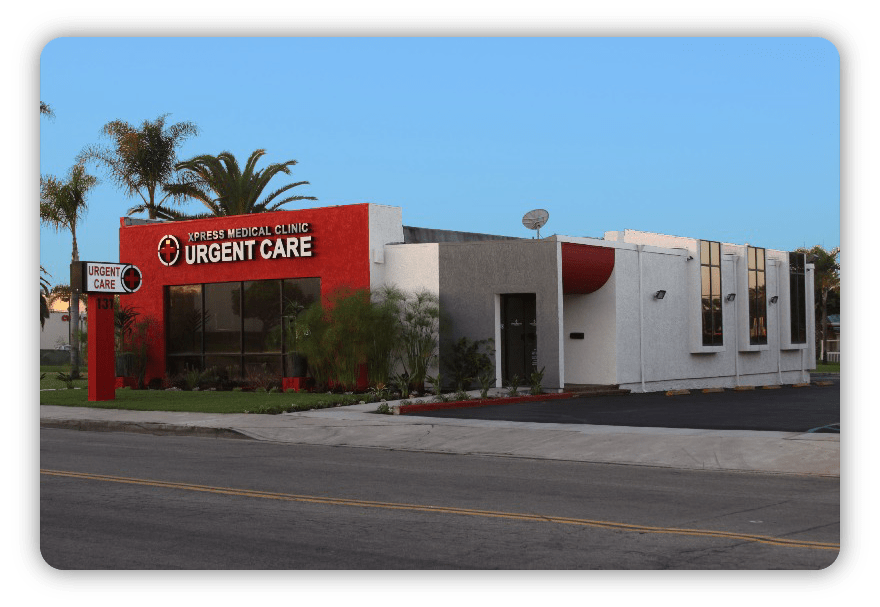 What We Treat
When you come in for an urgent care visit, it's nice to know that your facility has everything you need in one place. Our clinics offer same-day care, low wait times, affordable pricing, and we accept over 40 major insurance policies.
Our urgent care location in Costa Mesa offers a wide variety of services. We aim to make your visit as quick and simple as possible. With our onsite labs and x-rays, our patients don't need to make unnecessary trips to extra medical facilities to get the care they need. For life-threatening medical emergencies, please visit the emergency room or call 911 for assistance.
Urgent Care for Kids and Adults
Minor Wound Care
Cold & Flu treatment
Asthma
Alcohol Testing
Ear Infections
Ear Wax Removal
Eye Infections / Styes
Hemorrhoids
Influenza
Insect Stings/ Bites
Sinus Infections
Sprains
Arthritis
Diabetes
Pregnancy Diagnosis
Sexual Transmitted Diseases
Acne
Cold Sores
Eczema
Minor Sunburn
Poison Ivy / Poison Oak
Skin Lesion Removal / Biopsy
Interested in learning more about all that we have to offer? Give us a call at (949) 548-8400 to speak with a member of our staff or access our 24/7 online chat to speak with someone right away about common frequently asked questions about our clinic.
Find A Location Near You
You can also walk-in anytime at our Costa Mesa clinic or one of our other locations throughout Orange County for medical care or to speak with a member of our staff.  If Costa Mesa is not located near you, find a location in your neighborhood:
Stanton
Tustin
Huntington Beach
Los Alamitos
Cypress
Garden Grove
Or Choose Telehealth!
Directions To The Nearest Urgent Care In Costa Mesa 
From CA-1 N
Head northwest on CA-1 N toward Irvine Terrace.
Slight right toward Dover Dr.
Continue onto Dover Dr. and pass Castaways Park and Bob Henry Park.
Turn left onto Westcliff Dr/Westcliff Villas. Continue to follow Westcliff Dr.
Continue onto E 17th St.
Slight left to stay on E 17th St. Turn right onto Newport Blvd.
Take the first right onto E 17th St.
From I-405 S
Travel southeast on I-405 S.
Take the exit onto CA-73 S toward San Diego.
Take the State Route 55 S exit.
Merge onto CA-55 S. and pass Santa Ana Country Club.
Make a U-turn at E 17th St. Take the first right onto E 17th St.