Cypress Urgent Care and Walk-In Clinic
Here at Xpress Urgent Care, we are extremely excited to announce our new Cypress urgent care location. Each new location we open expands healthcare for the good of the Orange County community. Walk in to be seen any day, any time, or check-in online to expedite your appointment process. At our Cypress Urgent Care, our motto is sick today, seen today.
Urgent Care Near Me In Cypress, CA 
Address: 11741 Valley View St Suite A, Cypress, CA 90630
Phone: 714-947-2660
Email: cypress@xurgentcare.com
Business Hours:
Monday – Friday: 8 a.m. to 8 p.m.
Saturday & Sunday: 8 a.m. to 8 p.m.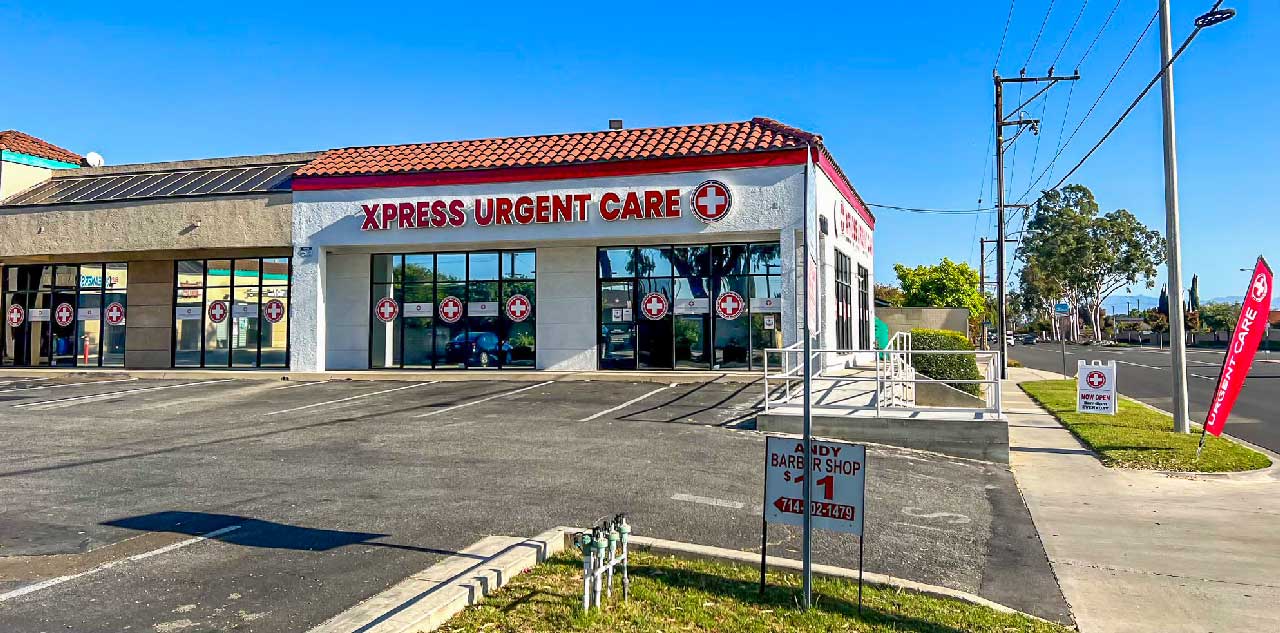 Conveniently located for the Cypress community.
Located near the Navy Golf Course and Maple Grove Park, our clinic is accessible to residents of Cypress and surrounding communities. The Cypress clinic is just off of Valley View St and isn't far from the exit on Interstate 405.
Come in and get care in Cypress 365 days a year, 7 days a week. We are even open on all holidays including Christmas Day and New Years Day, so don't hesitate to walk in or schedule an appointment.
Cypress Urgent Care Services
At our medical facilities, we diagnose and treat a variety of urgent medical conditions. For extreme and life-threatening illnesses, please visit a local emergency room.
Walk-In Clinic
On site Labs
Physicals
Pediatrics Care
COVID-19 Testing
Veterans Care
Common Illness
Occupational Medicine
COVID Services and Testing in Cypress
We offer COVID-19 testing at all of our urgent care locations in the Orange County area. Choose your Xpress Urgent Care location in Cypress for a Standard COVID-19 RT-PCR Test, Rush COVID-19 RT-PCR Test (36 hours), or a Rapid COVID-19 Antigen Test. In addition, we offer antibody testing to detect past infections.
At any Xpress location, you can receive a COVID monoclonal antibody treatment called Regeneron if you qualify. Regeneron is FDA approved and has been proven to help patients recover from COVID and alleviate their symptoms. Regeneron is available to patients who have been exposed to the virus or who have tested positive for COVID-19.
Learn more about Regeneron on our website.
VA Clinic in Cypress, CA
We are proud to offer medical care to local veterans through our official Veterans Affairs clinics. Veterans Affairs (VA) is the largest health network in the nation, and we have healthcare professionals who are trained in treating those who have served. Veterans who are eligible for VA care under the VA mission act can receive care at any Xpress Urgent Care location.
Find a Veterans Affairs urgent care near me.
Pediatric Urgent Care in Cypress
Our clinic treats patients of all ages, including young children. We also operate as a primary care clinic, so you and your children can visit us for any daily health needs such as check-ups, vaccinations, and more.
Visit us for a family-friendly urgent care experience.
Find an urgent care near me