Urgent Care In Irvine, CA
Our urgent care near Irvine is located in Orange County within Oak Tree Plaza on Treehaven Lane. The clinic is right across the street from Tustin Fitness and can be easily accessed off Highway 55 or Route 5. Our clinic near Irvine serves the communities of Irvine, Tustin, Santa Ana, Lake Forest, and more!
As a higher education hub, Irvine has more than six major college presences, including the University of California Irvine, Concordia University, Irvine Valley College, and several satellite campuses for institutions such as Pepperdine, CSU Fullerton, and the University of La Verne. We offer care for all ages, including college students who are staying in the area. We accept over 40 different insurance policies, making it simple to get affordable care.
All of our clinics are walk-in medical centers. We never require appointments for care at Xpress Urgent Care. We also offer telehealth services so that you can access medical care from your local providers even when you're out of town or homebound. With low wait times, onsite labs and x-rays, and hours of operation open 7 days a week, there is no more convenient option for non-life-threatening healthcare in Irvine. We also have over 1000 five-star reviews online, a testament to our efforts to provide our community with excellent care.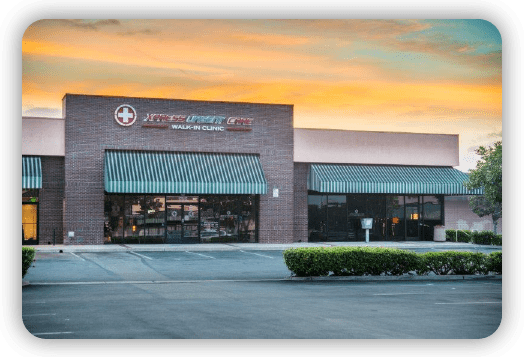 Our Services
We offer a wide variety of medical services at all of our clinics in an effort to simplify the healthcare experience for our patients. When you visit us, we can provide you with urgent care services, preventative care, onsite x-rays and labs, pediatric care, VA services, and much more! Choose the clinic that puts convenience and accessibility first.
We treat a long list of medical concerns, including the following:
Seasonal and common illnesses
Cuts, scrapes, and burns
Acne
Sexually transmitted diseases and infections
Ear infections
Cold sores
Insect bites or stings
Poison ivy and poison oak
And more!
When you experience a medical emergency, choose a local urgent care center over the emergency room to save time and money. Our facilities are equipped with state-of-the-art technology and an experienced staff that can help you feel better, faster.
Find A Location Near You
We offer healthcare throughout Orange County. If our location near Irvine is not convenient to you, there is sure to be another Xpress Urgent Care facility in your neighborhood. Choose from any of the following clinics:
Stanton
Tustin
Huntington Beach
Los Alamitos
Cypress
Garden Grove
Or Choose Telehealth!
As always, you can walk-in at any Xpress Urgent Care location for same-day medical services. Or, you can check-in online to speed up the visit process.