Garden Grove Urgent Care And Walk-In Clinic 
Need fast and affordable medical care in Garden Grove? Visit our urgent care next to Walmart Neighborhood Market, which is across Rodeo 39 Public Market. We operate as a walk-in clinic, meaning you never need to book an appointment to get same-day medical care in your neighborhood. As a family-owned business, we understand how important convenient healthcare is to your lifestyle. We offer low wait times, affordable care for the whole family, and a reliable staff that cares about our community.
Choosing an urgent care clinic as opposed to visiting the emergency room is a great way to save time and money. When your medical concerns are not life-threatening, you can visit any of our locations in Orange County between 8 am and 8 pm. At our clinics, you can get everything you need in one visit. Between urgent care, onsite labs and x-rays, and multilingual health services, we have everything you need!
Find An Urgent Care Near Garden Grove, CA
Location: 12860 Beach Blvd. Suite E Stanton, CA 90680
Phone: 714-698-4902
Hours: 8 am to 8 pm every day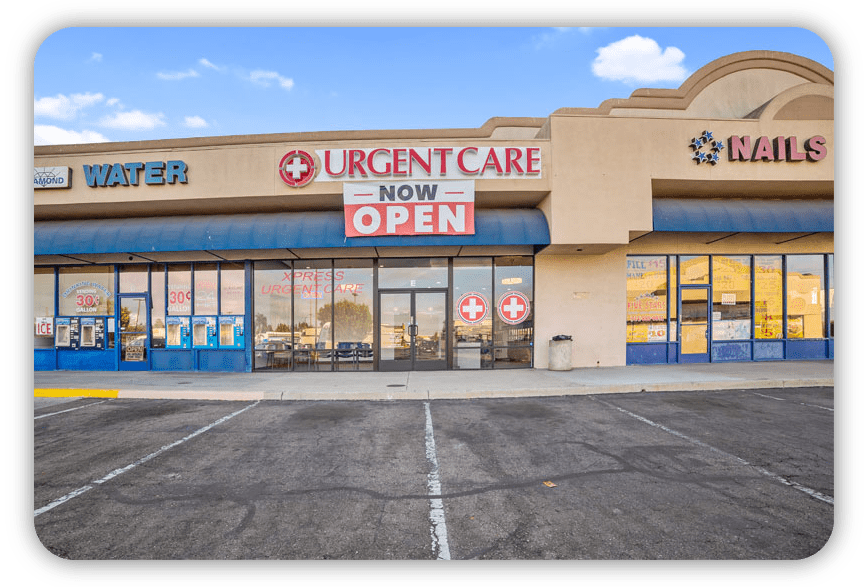 What We Treat At Our Urgent Care
Acne
Cold sores
Insect stings & bites
Sexually transmitted diseases & infections
Arthritis
Diabetes
Minor wounds
Sinus infections
Asthma
Ear infections
Minor sunburn
Sprains
Cold & Flu
Allergies
Poison ivy/oak
Skin infections
Pregnancy diagnosis
Ear wax removal
Skin lesion removal
Veterans Affairs services
Pediatric care
More About Our Clinic Near Garden Grove
Veterans Affairs services: We are proud to operate as a VA urgent care clinic for our community. In an effort to uphold the MISSION Act, we aim to make sure that all veterans in our area are well cared for.
Occupational medicine: As an employer, we know that the health of your business and employees are intertwined. We offer employer health services that can keep your employees healthy and keep your business running smoothly.
USCIS medical exams- We offer reliable immigration physicals that are in accordance with the Department of Homeland Security and U.S. Citizen and Immigration Services. These exams are performed by a Civil Surgeon.
Ways to pay: We are firm believers that healthcare should be both accessible and affordable. We do accept insurance, so see if your insurance is accepted before you visit us. We work with individuals who don't have insurance as well, and we offer affordable self-pay options.
Check-in online ahead of your visit to expedite the appointment process!